Claircrest Way To Go OD
CH Claircrest Nobody's Business x Claircrest Unlimited OD
"SASSY"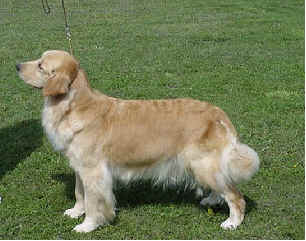 Sassy is full of energy and happy to do anything at anytime. She can also be a great bed dog by cuddling up and never moving a muscle all night!
Sassy is championship pointed and has been moderately successful showing. She enjoys showing or doing anything she can to please.
She has produced Claircrest Firecracker "Sparkle" with CH Dealer's Choice "Poker". Sparkle obtained her first championship points at nine months of age and a Best of Opposite in Sweeps. Her litter out of Ch Rumour's Just Kat'n Around SDHF, the Road Songs litter has been very successful competing as puppies and adults. CH Claircrest Born To Be Wild "Taz" and CH Claircrest Against The Wind "Georgie" were pointed from the puppy class and have Sweep wins. Both were finished by two years of age. Their littersister, CH Claircrest Can't Drive Fifty-Five "Sammy" finished exclusively out of the bred by class and took several group placements. This litter also includes Claircrest Happy Trails CD RN "Woody". In addition, Sassy's Dream litter sired by CH HYLINE'S TATSTHWAY AHUH ILIKIT has produced CH Claircrest Dreamweaver "Dreamer" and Claircrest Dream Come True "Trudy".
Sassy has been retired from breeding and showing and enthusiastically teaches her offspring how to open doors, steal banana bread and sleep in bed!
22 1/2 inches and 67 pounds
Born January 8, 1997