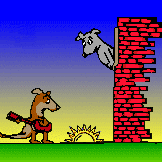 STUD SERVICE
For current stud service information please visit www.claircrestgoldenretrievers.com
Claircrest Golden Retrievers strives to manage every breeding for optimum success. We strongly encourage progesterone testing in order to have the greatest potential for pregnancy. We use a local veterinarian for ovulation testing procedures and a "veterinarian/breeder" in the area when artificial insemination is needed.
Claircrest's stud contract includes:
Bitch requirements
1. OFA and/or Penn Hip certification
2. Current ophthalmologist examination and/or Cerf certification (optional)
3. Report from a board-certified cardiologist
4. Results of a brucellosis test within 45 days
5. Results of a vaginal culture (recommended, but optional)
6. Picture, pedigree, and registration number
Puppy Sales Requirements
1. Forbidding the sale of puppies to brokers or out of the US or Canada.
2. Buy back clause for the breeder for the purchase price, and first right of refusal.
3. Mandatory hip, eye, and heart clearances for breeding.
The owner/breeder of the bitch agrees to provide to the stud dog owner the name, address, and phone number of each buyer, plus a copy of the contract for each buyer of each puppy in the litter.