CH Claircrest Dealer's Choice
Am/Can/Bda CH Cherrybrook Touchstone JH WC OS SDHF BISS BIS x CH Birnam Wood's Song N Dance OD
"POKER"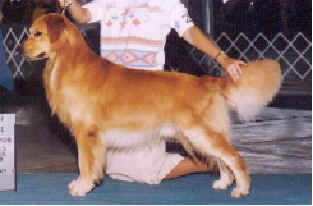 Poker is a very happy and confident dog with an
abundance of enthusiasm and energy.
He took his first two points at fourteen months old and his first major was at eighteen months. He was shown primarily by his breeder and owner. He finished his championship at twenty-six months of age. Poker is a litterbrother to Claircrest Daybreak Showdown JH "Kash" who has eleven points and one major.
Poker has a very nice head with a strong backskull, excellent pigment (even at nine years old) and short, nicely set ears. He moves very cleanly, coming and going, with good reach and drive. Poker also has a good topline and rear. He has plenty of coat which is medium in color, relatively straight and very easy to groom.
Poker has had some training in obedience and tracking with enthusiastic results.
23 3/4 inches and 85 pounds
Deceased