How Many More?
By Sylvia Donahey-Feeney
Who would have ever thought June 14, 1996, would be the day which impacted the life of one lucky Golden Retriever and hopefully countless others? On this day I received a fax of a Japanese Kennel Club pedigree from a friend asking if I knew of a certain sire in the third generation. I looked at the name and then I looked again. Certainly I recognized the name. It was the kennel name of a friend of mine in the midwest. They had purchased two Goldens from me ages ago and we had become friends. One bitch, a Champion, was the mother of this dog and my D.J. was the grandpa. The story was that this dog was in a puppy mill and being used only as a "stud machine." I couldn't imagine my friend selling one of her dogs to Japan, much less ending up in a puppy mill and dreaded passing along the information.
I wasn't quite prepared for her response. "He's where?" she gasped. "That's impossible. He was a puppy I sent to the stud dog's co-owner."
"What happened to him?" I asked.
She paused, "The stud-dog owner told me at eight months she thought he was going to be too big. Over the next few months we talked periodically comparing notes about her dog and my littermate. She would say he was tall on his leg and such a big boy. We x-rayed them about the same time at twelve months and she said his hips looked OK; mine didn't fare as well. Then somewhere around 18 months we talked and she said he was close to 25 inches, wanted to place him and she had found an ideal family nearby for him. I was reassured he would be in a loving family situation."
I asked her if she had sent him to the stud dog owner with a contract. The response was probably the same as many of us at the time - "No, I trusted her. I didn't think I needed one. I thought she cared about her dogs the same as I did. I wasn't concerned."
I said something like, "I think I smell a rat."
"No, Sylvia, she said, "there's some terrible mix up, you've just got the wrong dog."
Major denial going on here, but knowing her as well as I did, I knew she'd go straight to the source and ferret out the truth. The truth was a little harder to come by than she expected. The stud dog owner denied a Japanese sale, then offered her an address and phone number of the dentist and his family where he had been placed. The phone number belonged to a retired Secret Service agent who took an interest in the story and volunteered to track down any info he could. The address was non-existent.
Calling AKC seemed like the logical first step. AKC Customer Relations indicated they needed the request in writing. A letter was fired off. Patience is not one of her virtues and when she didn't get a response in a few days (silly girl!), she started calling. One fortuitous call ended up in the Registration Department where a clerk volunteered that her puppy had been signed over directly by the stud dog owner at seven months of age to a Japanese buyer!
Later she called me with the confirmation of what, I think, we had both figured out from the beginning. We sat on the phone and cried together. Grieving for her lost puppy and feeling helpless and frustrated. And then she said quite simply, "I don't care what it takes or what it costs, I will get him back."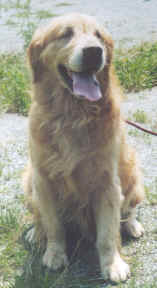 I hung up and walked outside. There was Patrick; my nine-month old male galloping around the yard. I called him over to me because I sure needed a hug; he was a relative of her boy. I looked into Patty's loving, trusting eyes and tried to imagine the terror the puppy must have felt when he was taken from his home at this same tender age. Had he been as devoted to his American family as Patrick was to me? Did he miss them and wonder who would save him in a foreign country where nothing made any sense? Who was there to hold him and tell him he was the most beautiful dog ever born while he was going through the uglies? I had no answers to these questions.
Walking back into the house, I picked up the phone and told her I was "in." Whatever it took, I would try to help her get him back. I warned her it was a long shot and not to get her hopes up. The next few weeks were a flurry of activity, phone calls, plans and sleepless nights waiting to hear if we could get the dog.
I don't know when I started getting mad about the injustice of it all: the dog, the hordes that preceded him and the ones which will surely follow. The dogs deserve better treatment and they have to be protected. I know all about this, you see, because I took part in the tragedy. Twelve years ago I sold two dogs to a foreign buyer. A day hasn't gone by that I haven't regretted my hasty actions. Very few of us who have sold dogs abroad can vouch with absolute certainty where those dogs ended up.
As our search for the dog progressed I learned a lot. It was a good chance he had gone straight to a puppy mill or breeding farm; that there are stud dogs in pet shops who live their entire lives there, available to service any bitch brought in. And bitches confined in warehouses producing a litter every season until they die - their only purpose in life to reproduce - and all because their American owners sold them so casually. They die needlessly of preventable disease like heartworm and treatable ailments like pyometria and bloat. And these are our precious Champions. It made me sick.
As friends heard of our efforts and joined in offering everything you can think of from money, time, moral support, veterinary care, advice...more advice, I found out they were all as mad as I was at what was happening to our Goldens. Did I mention the advice? We all agreed to give it some thought and come up with workable ideas to not only help sincere fanciers in foreign countries obtain quality Goldens, but at the same time protect our members and their dogs from unscrupulous brokers and breeders. It seemed like the timing was right to take a stand.
Meanwhile, an excited call came from her late one evening in July, "He's free, he's free!" she was sobbing into the phone. I couldn't believe it. She did it! She said she'd do it and she did! His freedom began to represent a hope to everyone involved that we really could make a difference.
GRCA members are smart enough to realize if something is too good to be true, it usually is. Twenty- thirty- forty-thousand dollars for a dog? We have to quit kidding ourselves and realize that the true price for greed is being paid by our trusting dogs. For instance, in 1995, over 44,000 Goldens were registered with the Japan Kennel Club! This is in a country that fits neatly inside California. This is mass production on an unheard of scale!! The insanity has to stop and it begins at home - right here - in our backyard. And it has to stop now!
Members of the Japanese Golden Fanciers Club have written letters to the GRCA membership begging us to stop sending our defective dogs over and polluting the gene pool. Surely most of us have read them in the GRNews. They have warned us over and over about dog brokers posing as breeders and the conditions in puppy mills and how indiscriminately our dogs are being bred; but we have chosen to disregard them. Did we think it wasn't our dogs or it wasn't our problem? It is our problem. If we profess to love the breed and are its sole protectors, we can no longer turn our heads and politely look away when people we know are committing these acts. Our dogs deserve better behavior from us than that. They count on us to keep them safe.
These were the thoughts I was having as his plane touched down on American soil a few weeks ago. How to get the message out to you. How to make us all understand and agree that our dogs' welfare comes first - it is non negotiable. I peered through the crate door into a gray face with soft, brown eyes. There's those trusting eyes again and I said to myself, "Sweet boy, you're never going to a bad day again and that's a promise." A group of us caravaned from the airport down to the NorCal show in Carmel; the new arrival sitting on the seat, looking around at his surroundings with quiet acceptance.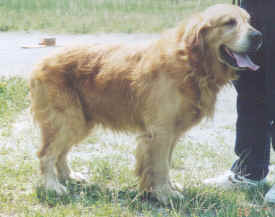 He seemed tired and a little weak. There definitely wasn't much to his muscles and the stilted, stiff movement belied his five short years. The next day, as word spread of his recent journey, fanciers came by to meet him and he sat gazing back with little recognition. Soon his x-pen was filling up with toys and gifts: pig ears, stuffed toys, chew bones, tennis balls and he sat there looking at them. He didn't know they were his or what to do with them. I was concerned he was traumatized from his experiences and wondered if he was capable of full recovery. He gamely took short walks and sat quietly ringside with Roger, one of the "advice" guys. I was dumfounded with his calmness and patience when people stopped to rub his head and welcome him back. He has one of those big moosie faces that demands a kiss every time you see it. Actually he was sitting ringside during the Veteran Dog class when I saw the first sign, a paw slipped up on Roger's leg for attention. This was good! The next thing I knew he was in Roger's lap, head tilted up, eyes squinted shut with that goofy grin only Goldens can get. I knew from that point on it was upward and onward.
Was it hard to put him on a plane back home. You bet! Everybody who met him wanted to keep him and make up for the years he had spent in a pen. I was no exception. On the morning I shipped him back, we were walking outside. It was almost dawn; cool and crisp with fog hanging in the air. He was gaining confidence with each step and had ventured 20 or so feet away. He stopped and took a deep draw of the fresh air - relishing it. I could see him outlined in the mist and thought about all the mornings he had spent waiting patiently for someone to come for him. Softly I called him over to me and said, "Come on, Jackson, it's time to go home."
How many more have to go?